Welcome to the website of Lisa Thorson, a Boston-based jazz vocalist, actress, and music educator. She has performed at jazz clubs, on radio, on stage, in film, and on television for over thirty five years. In addition, she has toured throughout the U.S., Canada, and Italy as a concert artist and jazz vocal clinician and released six jazz recordings as a leader. Legendary jazz vocalist Sheila Jordan calls Lisa "one of the most exciting jazz singers on the scene today".
"A gifted improviser of the most musical kind. She doesn't sing songs. She sings music … the best jazz singer I have heard in years."
– Chuck Graham, Tucson Citizen
---
NEWS
LISA INTERVIEWED IN BRILLIANT CORNERS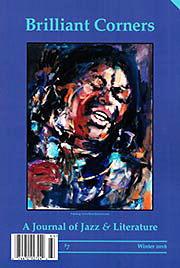 There's a new interview with Lisa in the Winter 2016 edition of Brilliant Corners, the only national journal to focus on jazz-related literature. Each issue is edited by Sascha Feinstein, a poet, essayist, editor and Professor of Creative Writing at Lycoming College. In addition to the conversation with Lisa, this issue also contains work by Ricardo Aleixo, Dante Di Stefano, Sandra Kingery, John McCluskey, Jr., and David Reich, among others. You can grab your copy by clicking here.
We've also got great reviews for the latest CD on our "Press" page, including a four-star review from All About Jazz and a humbling listing as one of the Best Jazz CDs of 2014 in the Vocal Jazz Category by Michael Nastos, news anchorman for WDEE and jazz writer and advocate! See these and all of our other reviews by clicking here.
Lisa's CD is being played as far away as Australia and was featured on legendary broadcaster Jim McLeod's show. You can listen to the show here.
Stay tuned for more news about upcoming concerts and educational opportunities!
"Thanks again for all your interest and support!"
– Lisa