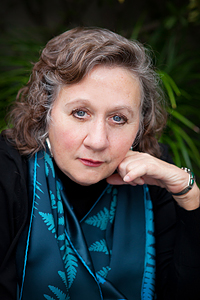 Lisa Thorson is a popular Boston based jazz vocalist, actress and music educator. She has performed at jazz clubs, on radio, on stage, in film and on television for over thirty five years. Legendary jazz vocalist Sheila Jordan calls Lisa "one of the most exciting jazz singers on the scene today". She has toured throughout the U.S., Canada and Italy as a concert artist and jazz vocal clinician.
Lisa has released five jazz recordings as a leader.  Her recording 'Out to Sea', a duo setting with pianist Cho Yoon Seung, received unanimous critical acclaim and international airplay.  Critic and writer Michael Nastos hailed "Resonance", her quintet's CD on GM Recordings, as "one of the very best musical offerings of the year, and an astonishing vocal document."
Lisa received a Bachelor of Fine Arts in Musical Theatre from the Boston Conservatory and a Master's Degree in Jazz Vocal Performance from New England Conservatory.  She is a Professor in the Voice Department at Berklee College of Music where she received the 2013 Distinguished Faculty Award and has taught at New England Conservatory, Longy School of Music and Wellesley College. The National Endowment for the Arts, Berklee College of Music and numerous public and private foundations have supported her creative performance and educational projects.
In addition to her work as a vocal and jazz educator, Lisa's current projects include her jazz quintet, Duo, Boswellmania; A Tribute to the Boswell Sisters and JazzArtSigns®, a multi-media, multi-sensory event.